Nissan Bluebird Sylphy
Nissan Bluebird Sylphy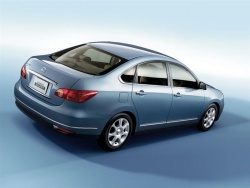 Overview
| | |
| --- | --- |
| Manufacturer | Nissan |
| Production | 2000-present |
| Class | Compact car |
| Layout | FF layout |
| Engine(s) | 1.5l, 1.8l, or 2.0l |
| Transmission(s) | 2WD or 4WD |
| Wheelbase | 2535mm |
| Length | 4470mm |
| Width | 1695mm |
| Height | 1445mm |
| Curb Weight | 1170kg |
Specifications
| | |
| --- | --- |
| Engine(s) Specs | Water cooled inline 4-cylinder DOHC |
| Power | 150 PS (110.33 kW) @ 6000 rpm |
| Torque | 20.4 kg⋅m (200.06 N⋅m) @ 4,400 rpm |
| Redline (RPM) | 7000 rpm |
| Transmission(s) Specs | Hyper CVT-M6 (2.0L) |
| Green Specs | U-LEV or SU-LEV |
History
The first Bluebird Sylphy is the Pulsar 4 door sedan which sold in the JDM (Japanese Domestic Market) only in order to keep the Bluebird name alive. After the Pulsar was discontinued, and replaced by Tiida / Latio, the Bluebird Sylphy became an independent model which does not have any relationship with export model.
First generation (2000-2005)
The G10 Bluebird Sylphy is basically the N16 Pulsar with more luxury touch. The Bluebird Sylphy has vertical chrome grille. Engine choice is 1.5 liter, 1.8 liter QG18DE, and 2.0 liter QR20DE. 5 speed manual transmission is only for the 1.5 liter cars, others have 4 speed automatic. 4WD is only offered for 1.8 liter model.
For export market, the similar car is sold as the Pulsar in Australia, the Sunny in Singapore and Thailand, the Sentra in Taiwan, the Philippines, Malaysia and Indonesia.
Current Production
The Nissan Bluebird Sylphy uses the Nissan's FF-S platform, and the model code is G11. This car was launched in Tokyo Motor Show 2005.
The Nissan Bluebird Sylphy uses the same engine as the Nissan Tiida/Versa/Latio, which is the HR15DE 1.5-litre engine and a whole new MR20DE 2-litre engine. The 2-litre version of Nissan Bluebird Sylphy uses the Nissan's X-Continuously Variable Transmission(X-CVT). This gearbox results in quick,smooth and powerful acceleration with low fuel consumption that same with a 1.8-litre engine.
The Sylphy has the most spacious interior space and the biggest boot (504 litre VDA) in its class. The rear legroom is almost as big as the Nissan Teana and Toyota Camry.
Go To Top
Return to JDM Cars
Source: Wikipedia under the GNU Free Documentation License
---