Japanese AA Inspection Sheets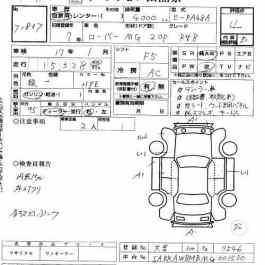 Auction inspection sheets are the primary way to provide prospect buyers an idea of the car's condition. Without them, you would have a hard time knowing any vehicle's condition until you have your bidding agent inspect it on the morning of the auction. While inspections sheets are not always accurate, they help ease the searching process.
These inspection sheets have "Inspector's Notes" which are written in Japanese that can provide you a wealth of knowledge of the condition of the car. Try to have such notes, and possibly all information, translated.
Each auction house can have a different inspection sheet form. Differences are usually in the variations of formating and symbol usage, but there is also sometimes variation of what information is available.
Additionally, some auto auctions do not use inspection sheets - e.g. NAA (Nyussatus Auto Auction). You will find that an agent with good experience at inspecting vehicles is a must when using this kind of auto auction. This is often the case when cars are sold as-is.
Below are some translations of the inspection sheet forms that are in current use to start off with.
Related Pages
List of Japanese Auto Auctions
Japanese to English Inspection Sheet Translations
Go To Top
---
INSPECTION SHEET TRANSLATIONS
More Coming Soon!
Go To Top
---
GENERAL GRADING SYSTEM GUIDELINES
Auction Gradings
Most auctions (and some stock dealers) have a grading system which uses numbers and letters to tell the buyer what condition the vehicle is in. Often on inspection sheets, this includes an overall, interior, and sometimes, exterior ratings. This system is a useful way to categorize in general the quality of the vehicle while quickly searching car listings.
Overall Grade:
In most cases, you will see either numbers or a letter or two:
6 or above - New and never been driven.
5 - Near new. Everything is in top condition.
4.5 - Excellent condition. May have some minor issues (small scratches/dents).
4 - Good condition. Normal wear and tear at max.
3.5 - Average condition. All areas are at an acceptable standard.
3 - Various scratches or dents. Some paint missing.
2 - In bad condition
1 - Very bad condition OR has been modified and in good condition.
0, A, A1-A5 - Involved in Accident. If there is a number, higher is worse.
RA or R - Had accident and repaired.
R1 - Repaired modified car. For example, adding after-market parts for performance or appeal.


B or C - Had large accident and repaired.
*** - Good for parts only.
Other Special Overall Grades:
S - Perfectly new.
T - Special Purpose vehicle.
Interior Grade:
Most auctions will also provide you will a grading of the interior's condition.
A - Good condition
B - Normal wear condition
C - Needs cleaning/repair
D - Needs much cleaning/repair
The Car Diagram:
All inspection sheets have a diagram of the car's body. There will be a lot of different marks inspectors will place over this diagram to describe what they see. The following is the most common marking scheme:
A - Scratch mark

A1 - About a thumb's width
A2 - About a palm's width
A3 - Larger than A2

B - Section that needs repair work
C - Corrosion exists
M - Repaired mark
W - Repaired wave. Very common to see 1-2 on older cars.
R - Rust exists
P - Repainting needed
X - Body panel needs replacing
XX or XXX - Panel is replaced
- A line is generally to show where a scratch is.
U - Dent

U1 - Thumb's width
U2 - Palm's width
U3 - Larger than U2
Check each Auto Auction's Inspection Sheet for more info on each grading system.
Go To Top
---