Honda Civic Type-R
Honda Civic Type-R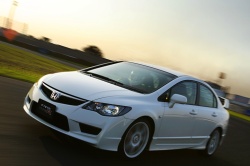 Overview
| | |
| --- | --- |
| Manufacturer | Honda |
| Production | 1996-2000 (EK-9) 2001-2005 (EP3) 2007-present (FN/FD2) |
| Body Style(s) | 4-door sedan (FD2) - current Japanese model |
| Layout | FF layout |
| Engine(s) | 2.0 L K20A I4 (FD2) (i-VTEC)(Watercooled L4 DOHC) |
| Transmission(s) | Manual |
| Wheelbase | 2,700mm |
| Length | 4,540mm |
| Width | 1,770mm |
| Height | 1,430mm |
| Curb Weight | 1270 kg |
Specifications
| | |
| --- | --- |
| Engine(s) Specs | 2.0 L K20A I4 (FD2) |
| Power | 222 bhp (225 PS/165 kW) at 8,000rpm |
| Torque | 159 lb⋅ft (215 NM) at 6,100rpm |
| Redline (RPM) | 8400 rpm |
| Transmission(s) Specs | close ratio six speed gearbox (manual) |
Rated Performance
| | |
| --- | --- |
| Top Speed | 241 km/h (150 mph) |
| Acceleration | 0-100 km/h (0-62 mph) = 6.3 seconds |
History
The Honda Civic Type R is a high performance version of the popular Honda Civic. Type R models were preceded by the 1991 EF9 CRX SiR and the 1992 EG6 SiR II. The CRX SiR was the first Civic ever to utilize the venerable B16 engine and a helical LSD, with a stripped out interior devoid of luxuries such as power windows and power steering. This inaugural top-of-the range Civic marked Honda's successes in Formula One, with multiple Constructors' Championships with the Marlboro McLaren team. The latter EG6 SiR II used the same stripped out formula, with a 10hp hike for the B16 engine and a marginally stiffer chassis, better brakes this time in a larger heavier body shell.
1st Generation (EK-9)
The Civic Type R was officially introduced in Japan in 1997, as an EK9-chassis hatchback, and shared many characteristics with the Integra Type R such as omission of sound deadening and other weight-reduction measures, a hand-ported B16B engine, front limited-slip differential, close ratio gearbox etc. The EK9 B16B engine boasted one of the highest power output per litre of all time for a NA engine at 185ps from a 1.6L sump. A strategically seam welded monocoque chassis was used to improve chassis rigidity. The interior featured red Recaro seats, a titanium shift knob and a Momo steering wheel. In 1999 the Type Rx was introduced featuring a CD player, body colored retractable electric door mirrors, power window, manual air conditioning, keyless entry unlock system, aluminum sports pedals, and a carbon type center panel. This generation of the Civic Type R was not marketed outside of Japan.
2st Generation (EP3)
In 2001 Honda introduced the next generation of the Civic Type R (EP3) as a unique 3 door hatchback to the UK market, which was manufactured in Swindon, England. The JDM (Japanese Domestic Market) version of the EP3 (which is also manufactured in Swindon, but shipped to Japan for finishing touches) retains the highly renowned helical LSD similar to that of the EK9. It also included more track-oriented chassis and undercarriage settings as compared to the UK market model, as well as a 215ps engine with different camshafts and ECU programming. This is also available in white while the UK model is not. The UK market model has more relaxed gear ratios and some high rpm horse power traded for low rpm torque compared to the JDM model.
The JDM remained a strictly 'export-model' only despite being manufactured in the UK, and is relatively rare outside of Japan.
2004 saw a successful CTR update with many improvements - quicker steering, revised suspension settings, HID headlamps (JDM only), lighter flywheel assembly etc; according to Honda literature, this facelifted (FL) model was targeted at addressing customers' and critics' feedback such as understeer (due to the front Macpherson strut setup), numb steering response and lack of low end torque.
Performance (all figures are aprox)
0-60mph in 6.6secs 0-100mph in 16secs Top Speed 147mph
Current Production
3rd Generation (FD2)
The Japanese market Civic Type R (FD2) went on sale on the 30th March 2007. For the first time the JDM Civic is sold as a four door sedan rather than a three door hatchback. The new Japanese model's engine output is higher than the European version's, with 222bhp (225 PS) being developed at 8,400rpm and 159lb ft (215 NM) of torque peaking at 6,100rpm (versus 198bhp at 7,800rpm and 142lb ft at 5,600rpm for the European model). Drive is fed through a close ratio six speed gearbox, and a limited slip differential is fitted as standard. The front brake discs are fitted with four pot Brembo calipers, and the car runs on 225/40 R18 Bridgestone Potenza RE070 tyres. A Type R aero kit and trademark black and red bucket seats complete the package.
Honda claims the body is 50% more rigid than the previous Japan-only Integra Type R, and the new model features an independent rear suspension rather than the torsion beam configuration used on the latest European Civic Type-R. To save weight, aluminum is used extensively and bonded with adhesive instead of welded.
In back to back tests the FD2 Type-R was on average 1 second quicker than the (DC5) Integra Type-R at the Tsukuba Circuit and 4 seconds faster at Suzuka.
Other
Motorsport
The 2001 release of the CTR, as it is commonly referred to, also indicated Honda's return to Formula One after almost 10 years as an engine supplier to the Jordan and BAR teams - this eventually led to the full-fledged comeback as a dedicated F1 works team in 2005 with Honda gaining full ownership of British American Racing.
Go To Top
Return to JDM Cars
Sources: Wikipedia under the GNU Free Documentation License/ www.honda.co.jp
---